Our Shops

Eshop stock might differ from stores stocks, so please call us before coming to the shops

Services in store

In our stores,

shoot more & pay less with our bundles !

Prices

Blog
FOMA RETROPAN 320 SOFT 4X5 INCH
Black and white 320 ISO sheet film
4x5 inch 25 sheets
Description
BE CAREFUL, THIS FILM IS EXPIRED SINCE MAY 31, 2018 BUT STORED FRESHLY SINCE ALWAYS.
RETROPAN 320 Soft film is a panchromatic black and white film that offers fine grain, as well as good resolution and sharp edges.
The film is characterized by a high range of half tones and a soft rendering of the light, which makes it ideal for prints or enlargements made in a "retro" style. It is specially suitable for still lifes, architectural photography, experimental photography, portraits, landscapes, etc.
The film's sensitivity is ISO 320/26 ° but its optimal exposure latitude also allows excellent results with overexposures of 1 EV (ISO 160/23 °) and underexposures of 2 EV (1250 / 32 °).
You might also like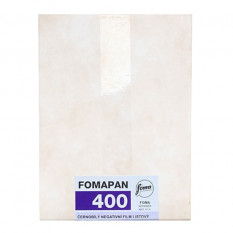 400 ISO black and white sheet film 4X5 inch 50 sheets
7438
Reviews
No customer reviews for the moment.