High quality prints with our enlarger !
Published : 03/16/2018 14:37:59
Categories : Lab news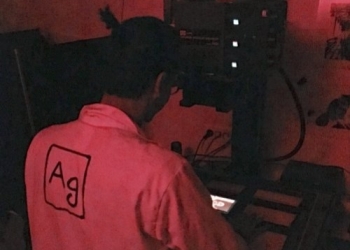 You may already know about how we develop films by hand in our traditional photo lab — but now there's more! Lovers of B&W photography, rejoice. We are now equipped with specialised paper and an enlarger for your most prized negatives and your most beautiful shots: to produce exceptional quality prints!
What is an enlarger, and what sort of prints does it make?
Our traditional photo lab is located in in the cellar of our Châtelet branch. We have recently equipped it with a printing workshop, with an enlarger and paper processing trays.
An enlarger is a specialized and manual projector used to produce photographic prints from film negatives, by shining light onto photosensitive paper.
Printing with an enlarger essentially repeats the process we undergo when we take a photograph: it records information onto a film using light, and develops an image from the negative. In this traditional printing, light passes through a negative, through a lens, and then onto paper — which itself is covered with a light-sensitive emulsion, and can then be developed.
Often considered the final stage in a complete photographic process, printing with an enlarger gives us the power to modify and perfect an image: you can enlargen its size, enrich it with warmer or colder tones, modify the lighting of the scene, increase or decrease contrasts, and darken or blot out unnecessary parts of an image...
Our papers, our formats and our prices
Nation Photo offers its customers the chance to have B&W photographs printed with our enlarger, in sizes ranging from 10x15 to 50x60.
We use RC paper with a choice of matte, glossy or satin finishing.
We also make contact sheets using the same enlarger!
Feel free to pop into our Chatelet branch and have a look at our 50x60 prints hanging on the walls as an example of what your images could look like. You will also have the opportunity to discuss your printing preferences with our dedicated printing craftsman.
Our prices:
10x15 : 2€

13x18 : 4€

18x24 : 9€

24x30 : 15€

30x40 : 20€

40x50 : 30€

50x60 : 40€

Contact sheets : 6€
NB: All 10x15 and 13x18 prints are produced with white margins. For any larger formats, we offer you the choice between a centering your image with margins, or a full size print covering the paper size of your choice.
Share this content
Add a comment